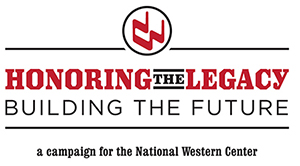 Honoring the Legacy, Building the Future
The National Western Center redevelopment will be a multi-phase project involving an array of road and rail infrastructure improvements, a revitalization of the South Platte River and the establishment of a Colorado State University academic center, among them.
The Honoring the Legacy campaign focuses on four core National Western facilities: the Legacy Building, the Livestock Center, the Yards and the Equestrian Center.
The expansion and development of these new facilities will greatly enhance the visitor experience, provide the capacity to host a wider array of events throughout the year, and support increased attendance at other National Western Center facilities, both existing and future.
Marcy and Bruce Benson Named 2020 Citizens of the West
Denver, CO, September 17, 2019 – The National Western Stock Show is proud to announce Marcy and Bruce Benson as the 2020 Citizens of the West. This prestigious annual award recognizes those who embody the spirit and determination of Western pioneers and perpetuate the West's agriculture heritage and ideals. A committee of community leaders selects recipients.
"I'm pleased to see that Bruce and Marcy Benson are being jointly honored as Citizens of the West.  It is a well-deserved honor for their many contributions in the fields of education, philanthropy and business in our community and state." said Philip Anschutz, 2014 recipient of the Citizen of the West award.
The Bensons will receive the award at a dinner on January 13, 2020, at the National Western Events Center. Proceeds from the event support 100 scholarships the National Western Scholarship Trust awards annually to colleges and universities in Colorado and Wyoming.
Marcy and Bruce are respected leaders in the business, education, civic, political and philanthropic communities. Together they have made a lasting impression through their tireless advocacy and fundraising efforts for issues and institutions they hold in high regard. [ read more ]
  Learn More About Citizen of the West  
Follow us @NationalWestern