Professional Rodeos at Stock Show
The National Western Stock Show offers one of the most elite rodeos in the world. From PBR Bull Riding and PRCA Pro Rodeos to our own Colorado vs the World Rodeo, to the celebrated Mexican Rodeo Extravaganza and MLK Jr. African-American Heritage Rodeo, our rodeo arena is jam packed with action for 16 full days!
Colorado vs. the World Rodeos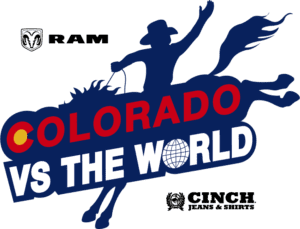 This exciting rodeo features Colorado rodeo champions vs rodeo champions of the World in three opening day rodeos like none other.
Read More
Mexican Rodeo Extravaganza
presented by:  
Filled with cultural pageantry, the Mexican Rodeo Extravaganza features Mexican-style bull riding, bareback riding, trick roping, Mariachi music, side saddle girls, and the Portuguese style Bull Fights all choreographed by Jerry Diaz, a fourth-generation champion charro.
Location: Denver Coliseum
Date: January 2022
PBR Bull Riding
The Pendleton Whisky Velocity Tour features top bull riders squaring off against the rankest bucking bulls in North America. Fans will witness exhilarating 8-second rides and wrecks throughout the action-packed event as the PBR's courageous riders face off against their 2,000-pound, animal-athlete opponents.
Location: Denver Coliseum
Date: January 2022
Pro Rodeos
World champion bulls and broncs, cowboys and cowgirls roll into Denver for the first major pro rodeo competition of the season. From barrel racing to bronc riding - steer wrestling and mutton bustin, you do not want to miss a minute of the match-up between these two and four-legged athletes.
Whether you prefer thrills and spills or speed and agility, the NWSS Pro Rodeos are the event for you.
Location: Denver Coliseum
Date: January 2022
MLK Jr. African-American Heritage Rodeo
Celebrate the history and heritage of America's black cowboy honoring the legacy of Bill Pickett and his influence on Black Western Heritage.
The special MLK Jr. African-American Heritage Rodeo will showcase top cowboys and cowgirls competing in all your favorite pro rodeo events including bronc riding, barrel racing, steer wrestling, mutton bustin', ladies' steer un-decorating and many more.
Location: Denver Coliseum
Date: January 17, 2022
Pink Pro Rodeo
Rodeo fans, contestants, and rodeo clowns come together in a wave of pink for the Pink Pro Rodeo presented by Cigna. Grab the pink shirt, boots, or hat and join pro rodeo athletes and the Colorado community as we rally together to fight cancer and support the American Cancer Society of Colorado.
Enjoy a great rodeo for a great cause!
Location: Denver Coliseum
Date: January 13, 2022
Military Appreciation Night
Join us for a very special pro rodeo dedicated to appreciating the active-duty and retired servicemen and women from all branches of service.  Military Appreciation Night at the rodeo honors the service and sacrifice of members of the Armed Forces. The evening will include a special performance by the U.S. ARMY.  Make sure to wear your red, white & blue!
Special military ticket discounts available.
Location: Denver Coliseum
Date: January 2022
In Rodeo Mutton Bustin'
presented by:   
One of the National Western's most popular events, Mutton Bustin', features children ages 5-7 and under 55 pounds riding sheep out of a chute and into the arena!
Location: Denver Coliseum
Date: January 2022